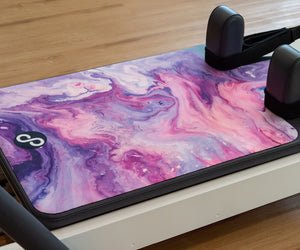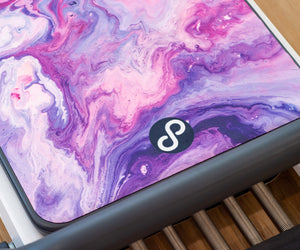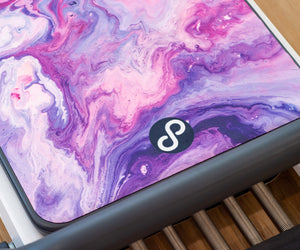 REFORMERMAT - Mauve Pink Swirls
Reformer mats are the perfect companion for your Pilates Reformers. 
It is hygienic and super grippy with great support and cushioning -- 1 mm thin and weighs less than 500 grams. Reformer mats are the new must-have for your next Pilates reformer class.
Made from natural tree rubber - 100% vegan, and topped with an anti-bacterial, ultra-soft, absorbent microfibre surface that can be cleaned with sanitising spray.
Designed in Australia with loads of prints to suit your mood.
-
Dimensions: 560mm x 975mm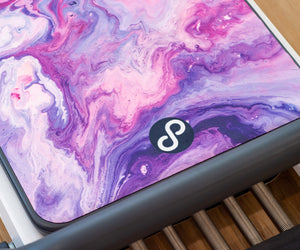 I love this mat! It's so soft and makes the Pilates reformer feel softer as well. I love the carry bag, it makes it so easy to carry around. I love knowing that if the reformers at my studio aren't cleaned between classes that I won't be lying in someone else's sweat. Highly recommend!!
Fantastic!
So happy with my purchase! I order 2 different reformer mats from Reformermat and couldn't be happier. They have brightened my home studio set up. Great quality and feel.
Amazing Product!!
Thanks REFORMERMAT for my Mauve Pink Swirl Mat. I'm totally in love with the product, the pattern is gorgeous and I get so many compliments about it. I definitely recommend your business.
Mauve pink swirl reformer mat
My new reformer mat is great! It's my first mat for reformer Pilates that's non slip in fabulous mauve pink swirl colours. Easy to clean and packed in its own suede bag. I would recommend buying this mat.
Fantastic products
Reformer mat arrived very quickly. Great quality and perfect to use for reformer workouts in this post-covid world! They also threw in a free pair of grip socks which was a lovely surprise (I had also bought a pair), and they are a super comfy product. Would definitely recommend!